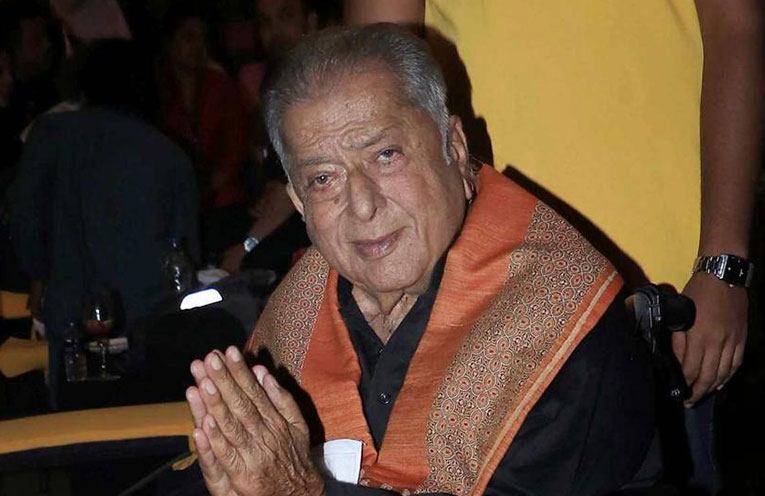 Shashi Kapoor, the youngest son of the legendary actor Prithviraj Kapoor dies after a prolonged disease.
The actor has a huge contribution to Bollywood and has worked in over 175 films. He was honoured with the Padma Bhushan in 2011 and the Dadasaheb Phalke award in 2015.
His famous dialogue "Mera Pass Maa Hai" in the movie Deewar is used by people till date.
The news was confirmed by his nephew "Mohit Marwah" on twitter with the caption "My favourite Shashi Kapoor rests in peace today. Will be remembered always"
My favourite shashi kapoor rests in peace today 🙏🏽 will be remembered always pic.twitter.com/hv2KQOgOyf

— Mohit Marwah (@mohitsmarwah) December 4, 2017
The entire Bollywood fraternity is in a state of shock after hearing this news. May God be with the Kapoor family during this difficult time and may his soul rest in peace.
One Of The Greatest Actor Of Bollywood, #ShashiKapoor Passed Away Today. He Will Always Be Remembered For His Contribution To Film Industry. Om Shanti.🙏 pic.twitter.com/GKyrGmvVKN

— Narendra Modi (@narendramodi177) December 4, 2017
Veteran actor #ShashiKapoor passes away in Mumbai at the age of 79 pic.twitter.com/8ov492cn3D

— ANI (@ANI) December 4, 2017
END OF AN ERA! Veteran #Bollywood actor #ShashiKapoor passes away at 79 after prolonged illness pic.twitter.com/ONgnUqJO6D

— Doordarshan News (@DDNewsLive) December 4, 2017
Am deeply saddened by the passing away of my co-star #ShashiKapoor. The last of that generation of Kapoors gone. A gentleman and friend gone. An era gone.. All that remains are his films…and precious memories.. 😭 RIP Shashi-ji.

— Simi Garewal (@Simi_Garewal) December 4, 2017
RIP Sir. You will be deeply missed by all🙏 #ShashiKapoor pic.twitter.com/Bkr48vvtKp

— Bipasha Basu (@bipsluvurself) December 4, 2017
So sad to hear the passing of the most charming #ShashiKapoor ji, really saddened by this news. Pray for his soul to find peace. Thank him for the amazing memories he gave us all. Condolences to the Kapoor family. #RIP SIR.

— arjun rampal (@rampalarjun) December 4, 2017