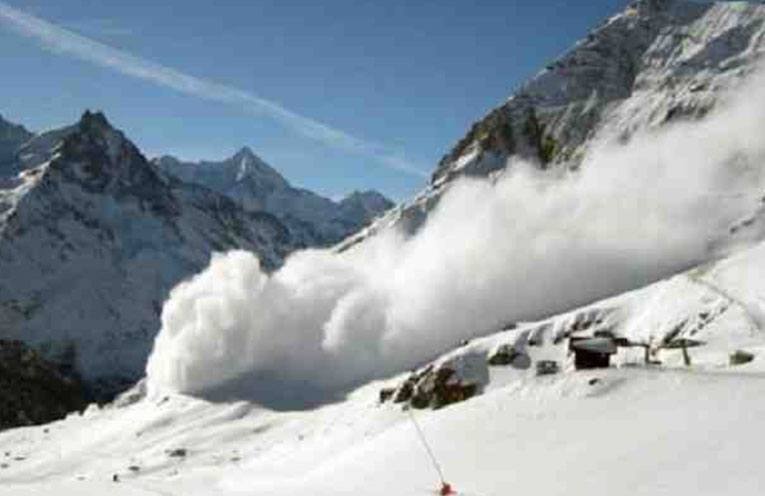 December 12, 2017, Srinagar, The avalanche hit an army post at Baktoor, near the Line of Control in Gurez sector at midnight, after that three army men went missing, confirmed police official.
The Police Official said that three soldiers were reported missing after the stack of avalanche and we are searching for them. He added "We have been trying to trace the missing soldiers with full strength, but due to continuous snowfall, we have not yet rescued them."
An Army porter is missing since yesterday after he came under an avalanche in Tulail in Gurez sector. The army and police are searching him too.
In January this year, Fourteen soldiers died due to some avalanches, that hit an Army Camp and a patrolling party in Gurez sector.
Gurez is a valley amongst the high mountains in Bandipora district, Which is located 150 kms away from Srinagar. It is connected with Kashmir by a road at an altitude of over 11,000 feet. Gurez is nearby the Line of Control and the preferred way is to infiltrate.
Jammu & Kashmir: 3 Army jawans go missing after Snow Avalanche at Mani Post Bagtor #Gurez sector of LoC in #Bandipora

Let's all Pray for the Safety of our Brave Soldiers who endure such harsh weather just for us. Hope the are Rescued soon.#IndianArmy#snowfall#Kashmir

— Jagrati Shukla (@JagratiShukla29) December 12, 2017
Let's pray for the Safety of our Brave Soldiers who endure harsh nature to safeguard our motherland n lives of us.Hope they rescued soon. #IndianArmy #Gurez #bandipora #Kashmir #Avalanche #LOC

— Priyadarshini Upala (@Priya_upala) December 12, 2017
Avalanche hits Indian Army post in #Gurez sector of Jammu & Kashmir. 3 soldiers missing, rescue operation underway. #Avalanche #Bandipora pic.twitter.com/h7ProAZ6H5

— Vikrant Yadav (@vik21_yadav) December 12, 2017