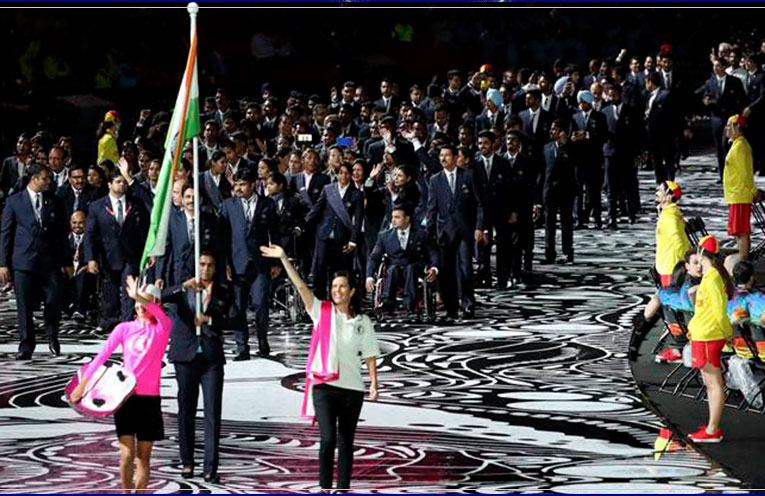 Commonwealth Games are one of the most prestigious games around the globe, where all the commonwealth countries compete against each other. Commonwealth Games were held in Gold Coast, Queensland, Australia, between 4 and 15 April 2018. Talking about India's performance at the CWG 2018, India stood at 3rd place in the medal tally at 66 medals. This is India's third best performance at the CWG. While all the players gave it their blood and sweat, it was India's daughters who outshined at CWG and brought home most of the medals.
The Daughters who made us proud at Commonwealth Games,2018:
Mary Kom:- 35 year old boxer and mother of 3 sons, who did not let age, marriage or parenthood, stop her from earning gold at CWG 2018. Mary won gold medal in 45-48 kg boxing beating Northern Ireland's Kristina O'Hara. Mary truly showed us that she simply isn't a Five times World Amateur Boxing champion.

Manu Bhaker:- Manu truly gave it her best shot and brought a gold medal in women's 10m air pistol event and set a record by scoring 240.9 points. At the tender age of 16, she holds the title of the youngest Indian to win a gold medal at the ISSF World Cup.
Manika Batra:- Manika was India's star performer at CWG 2018. She brought home not just one, but a 4 Medals (2 gold, 1 silver and 1 Bronze). The 22 year old table tennis player hails from Delhi. She is first Indian woman to win an individual medal in table tennis at the Commonwealth Games. Manika's Tri color nail polish also became the talk of the town.

Saina Nehwal:- Saina is undoubtedly one of the finest badminton players the world has ever seen. The entire nation was going through a nail biting situation as P. V Sindhu and Saina were competing against each for goal, putting India in a win- win situation. Saina won the match and became India's first woman to win two gold medals at CWG.

Mirabai Chanu:- Mirabai's shoulders weren't only carrying weights at CWG, but were also carrying the expectations of 1.25Cr Indians. Needless to say, she performed extremely well, bringing India's first Gold, in Women's 48 kg. Besides creating history, she also broke three Games records in the 'snatch' section, the 'clean and jerk' and the overall Games record.

P. V. Sindhu:- P.V Sindhu shot to fame when she became the first Indian to win a silver medal at Olympics. History repeated itself once again, but this time at CWG where P.V earned the Silver Medal. She was competing against Saina Nehwal.

Also read these articles:
Top Engineering Colleges In India
Himachal Pradesh Government To Give Cash Price To India's Skier Aanchal Thakur
Haryana Govt. Announces Rewards for the Medal Winners of #commonwealthgames2018india pic.twitter.com/iY3eiMFG3W

— CMO Haryana (@cmohry) April 15, 2018