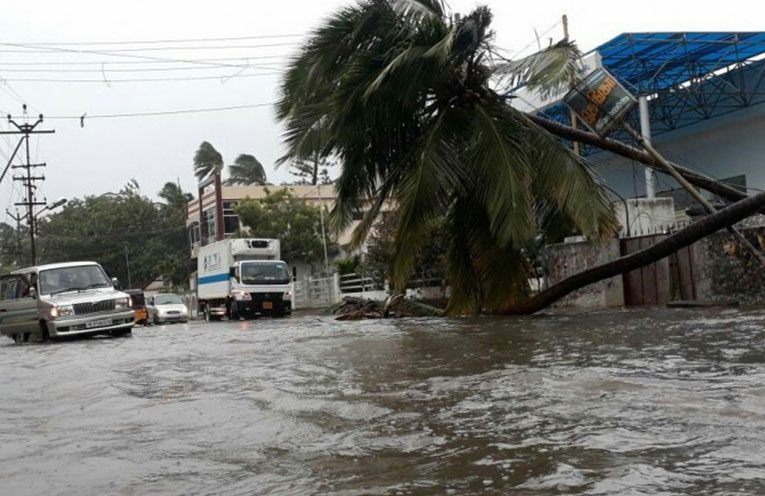 December 2, 2017 THIRUVANANTHAPURAM, Cyclone Ockhi, has taken 13 lives in Kerala and Tamil Nadu, and further moved to Lakshadweep, according to weather department. A red alert was issued on Friday for Lakshadweep; Cyclone continued to move in the direction of Lakshadweep Island. The cyclone has also taken 7 lives in Sri Lanka and 5 fishermen were reported missing yesterday.
Very severe #CycloneOckhi to intensify, #Lakshadweep to get very heavy #rains: https://t.co/HWMRuV0WFs #Weather #cyclone1 #Chennai #Chennairains #Kerala #cyclonealert #TamilNadu #Ockhi #Cyclone #Kanyakumari #Lakshadweep

— SkymetWeather (@SkymetWeather) December 2, 2017
The Air Force, Indian Navy and Coast Guard teams rescued 393 people across the state according to Kerala CM Pinarayi Vijayam. He said that the families of the departed will be given a compensation of 10 lakh. Due to strong wind and rain, many houses were damaged, coconut trees were uprooted and communication lines were down too.
Last night Prime Minister Narendra Modi got in touch with TN CM Palaniswami and assured him that help would be provided related to cyclone. According to TN Government press release they would get funds from Central government to help cyclone's survivors.
INCOIS and IMD released joint news yesterday; that the strong cyclone storm over Lakshadweep might increase in next 12 hours. The island will see heavy to very heavy rainfall in next hours.
The Chief of Naval Staff Admiral Lanba briefed me on the on-going rescue operations #CycloneOchki . More fishermen rescued this morning. Rescue work to continue.Some rescued fishermen waiting in Lakshadweep Isle to get back. Details @indiannavy @DefenceMinIndia @IndiaCoastGuard

— Nirmala Sitharaman (@nsitharaman) December 2, 2017
Early morning visuals from Lakshadweep; destruction caused by strong winds & high tides. #CycloneOckhi pic.twitter.com/kO26bbSjlK

— ANI (@ANI) December 2, 2017
#CycloneOckhi: Very severe cyclonic storm #Ockhi will continue to batter #Lakshadweep Islands with torrential rains. It is still persisting over Lakshadweep and adjoining Southeast Arabian Sea. Meanwhile, #rains would reduce further in #Kerala and #TamilNadu. @ndmaindia @NDRFHQ

— SkymetWeather (@SkymetWeather) December 2, 2017
#HADR #CycloneOckhi #SAR continues off Kerala Coast. IN ac P8i, DO, ALH, Seaking 42B&C in area since dawn. Ships from SNC and ICG in area. Western Fleet ships INS Chennai, Kolkata & Trikand have augmented SAR as well. INS Shardul heading 2 Minicoy for assistance 1/n @nsitharaman pic.twitter.com/PQGMShIn20

— SpokespersonNavy (@indiannavy) December 2, 2017
Power cuts in many area !#StaySafe #OckhiCyclone pic.twitter.com/cb5cjuvOBa

— Troll Cinema ( TC ) (@TrollCinemaOff) November 30, 2017