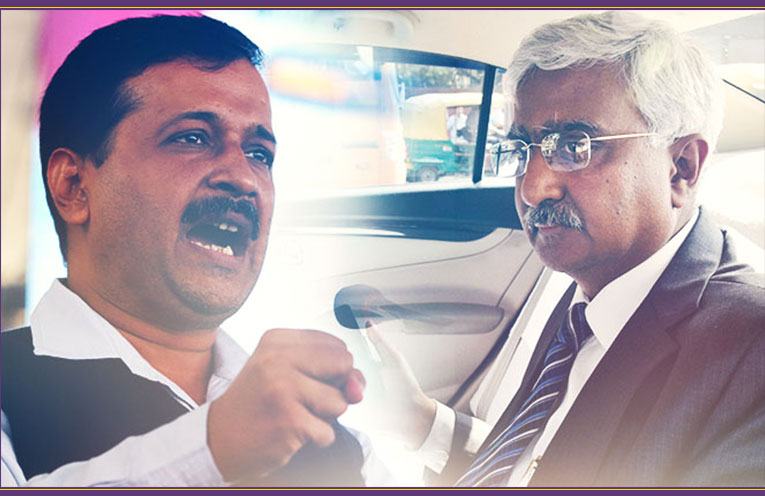 The alleged Delhi Chief Secretary Anshu Prakash assault case became a high voltage issue for Delhi government. On Friday morning a big team of delhi police entered Delhi CM Arvind Kejriwal's House and Confiscated the evidence against AAP MLAs against chief Secretary Assault case. Police Seized hard disk of CCTV footage to check the actual issue and questioned the staff regarding the same.
The spokesperson of Delhi Police, Deependra Pathak said the action was a part of the investigation into the alleged incident with Delhi Chief Secretary. This incident was done because there were 21 total cameras in CM's house and only 14 footages were found before and 7 footages were missing. After this Delhi police took many meetings and decided to visit CM's place and seized the hard disk. Delhi police Clarified and said "There was no interaction with Chief Minister Arvind Kejriwal."
Alleged assault of Delhi Chief Secretary Anshu Prakash case:Police arrives at CM Arvind Kejriwal's residence to review CCTV visuals pic.twitter.com/VrroGWjLwK

— ANI (@ANI) February 23, 2018
However two AAP MLAs, Amanatullah Khan and Prakash Jarwal, were arrested on Wednesday based on the Chief Secretary's complaint and Court has kept them in custody for 14 days for investigation.
Click the Link to know what happen and blames against AAP MLAs.
After this incident, Kejriwal blamed BJP for this and tried to show this as a political turn. AAP and kejriwal Gimmicks turned on and tweeter is also playing a big role in India in these days. Now, let's see that what's next…..
Aam Aadmi Party also tweeted :
CM हाउस पर CCTV फुटेज लेने के बहाने दल-बल के साथ पहुंची दिल्ली पुलिस पूछ रही है कि 'इस कमरे की पेंटिंग कब हुई थी,प्लास्टर कब हुआ था? टोयलेट कहाँ है?
क्या पुलिस की इतनी हिम्मत है कि जस्टिस लोया केस में अमित शाह के घर इसी तरह घुस कर पूँछतांछ कर सके? pic.twitter.com/FEXxBMK2Yz

— AAP (@AamAadmiParty) February 23, 2018
Arvind Kejriwal also tweeted :
ख़ूब पूलीस मेरे घर भेजी है। मेरे घर की छानबीन चल रही है। बहुत अच्छी बात है।

पर जज लोया के क़त्ल के मामले में अमित शाह से पूछताछ कब होगी?

— Arvind Kejriwal (@ArvindKejriwal) February 23, 2018