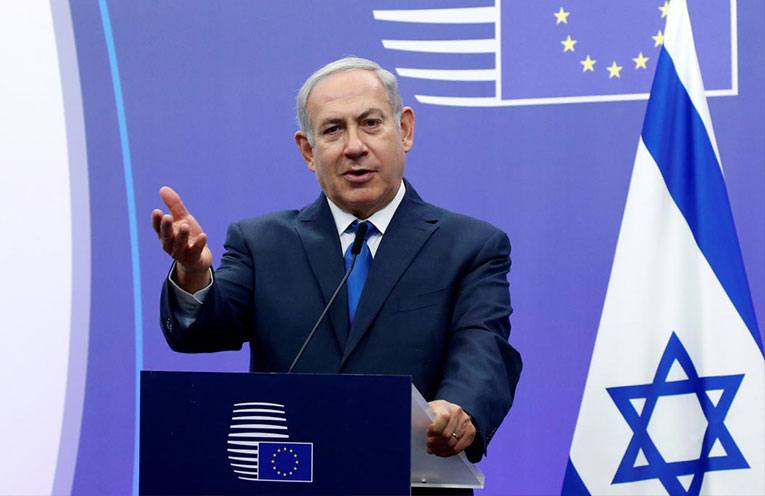 The Prime Minister of Israel, Mr. Benjamin Netanyahu, Thanks U.S. President Donald Trump's for recognizing Jerusalem as the capital of Israel on European Union tour, Monday. Mr. Netanyahu said that "It is a very admirable and dignified decision and hoping that the Europeans have accepted this."
During the European Union, Israeli PM said, I hope in future Europeans Embassy's moves to Jerusalem too. Before the meeting in Brussels with EU ministers, He shared with reporters that he was greeted by the EU foreign policy chief Federica Mogherini.
Mr Netanyahu's stated during EU, "I believe that all, or most, of the European countries will move their embassies to Jerusalem, recognise Jerusalem as Israel's capital and engage robustly with us for security, prosperity and peace."
Where in Middle East, the Palestinians have been protesting against this decision since the last 4 days. On Friday, 2 Palestinians died in a clash with Israel by IAF (Israeli Air Force) in Gaza.Thereafter as per the declaration, on Sunday, A Israeli security guard was killed by an Palestinians at Jerusalem's main bus station.
After this decision of President Trump, The middle east countries are not looking happy and they said that this decision is not acceptable and it will harm all the Middle East countries. "In Cairo, the Arab foreign ministers met on Saturday and urged the United States to drop this decision on Jerusalem and said that the move would increase violence throughout the region."
Muslims protest for Jerusalem against Trump's decision on Friday Prayer
Where in Washington on Friday 8th December, More than hundred Muslims wearing traditional dress of Palestinian with Palestinian flags, on friday prayers outside of 'White House', protest Jerusalem as the capital of Israel, against the decision of American President Donald Trump.
On Wednesday, Trump announced Jerusalem as the capital of Israel and decided that the US Assembly will relocate from Tel Aviv to Jerusalem. Looks like Trump has turned his back on decades of American-international diplomacy. After this decision a lot of oppositions were visible in the Middle East.
נפגשתי היום עם שרי החוץ של האיחוד האירופי. ירושלים היא בירת ישראל – ואף אחד לא יכול להכחיש זאת! pic.twitter.com/L5uSLJMtWW

— Benjamin Netanyahu (@netanyahu) December 11, 2017
#Indonesia says NO to Jerusalem being called capital of Israel#Palestine #Jerusalem #MasjidAlAqsa #AlQuds #HandsOffJerusalem pic.twitter.com/TBIWTAE1GF

— Masjid al Aqsa (@firstqiblah) December 10, 2017
So, where were the Palestinians when this was happening? #Jerusalem was NEVER the capital of #Palestine. #Palestine was NEVER an Arab country and #Jerusalem was NEVER an Arab capital in the history of the world. #AnyQuestions? pic.twitter.com/Pijnc2xi1c

— israel_shield (@israel_shield) December 10, 2017
"Resistance is not terrorism!" Hundreds of people now protesting Trump's #Jerusalem declaration at the federal building in LA #BDS pic.twitter.com/4gHU2nDVcL

— Abby Martin (@AbbyMartin) December 10, 2017