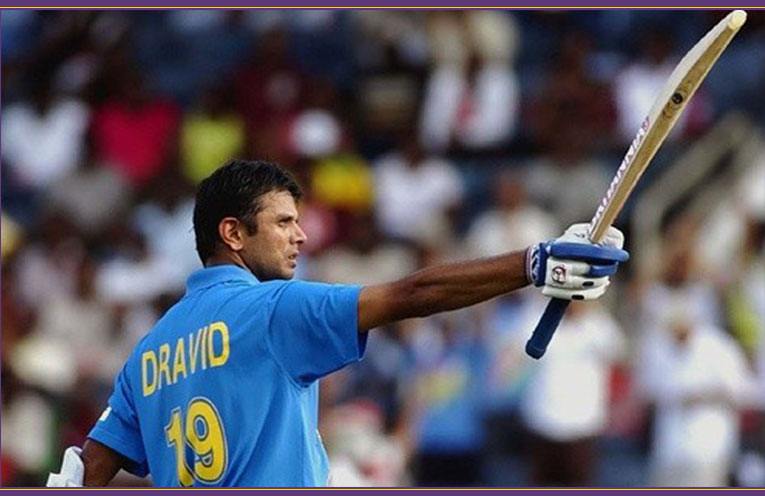 In a country where Cricket runs in our blood and cricketers are considered nothing less than God; Rahul Dravid is one such player who changed the era of Cricket. Former Indian cricketer and team captain Rahul Dravid turns 45 today. Get to know some interesting facts about your favorite Player
Rahul Dravid played Hockey before Cricket

Image Credit : india.com

Rahul Dravid started off his sportsman journey as a hockey player and then made the shift to Cricket( Thank God, he did).

Rahul's pet name is "Jammy"

Image Credit : jagran.com

You might know him as "The Captain" or "The Wall", but his close ones call him "Jammy." This is because his factor worked for Kissan and ironically, Dravid went on to endorse the same brand.

Rahul's son is a great cricket player too

Image Credit : freevoice.club

Rahul tied the knot with Vijeta Pendharkar in the year 2003 and they have blessed with two sons. His elder son Sambit, smashed a whopping 150 runs in Karnataka State Cricket Association's (KSCA) BTR Cup Under-14 tournament. Looks like, he is following his father's footsteps.

Dravid has been awarded with Padma Bhushan and Padma Shri

Image Credit : wsj.net

Dravid has led the team to victory a lot of times and not to mention his amazing work as a captain. To honor this very contribution, Dravid was felicitated with Padma Bhushan and Padma Shri, India's 3rd and 4th Highest Civilian award.

Dravid is the only Indian to score centuries in four consecutive test match innings.

Image Credit : karnatakaspider.com

Dravid rejected an honorary doctorate degree from Bangalore University

Image Credit : rvcj.com

The Bangalore University wanted to give an honorary doctorate degree to Dravid but he rejected it, because he wanted to earn the degree rather than accepting it on a platter.
"The team of Newsera wishes Dravid a very Happy Birthday."
There might be many strong walls around us but the greatest yet is the one and only, #RahulDravid. Happy birthday, Jammy! My best wishes for the U-19 World Cup. #HappyBirthdayDravid pic.twitter.com/RICNJXzIWM

— sachin tendulkar (@sachin_rt) January 11, 2018
This Wall will always stand tall! Cheers to all the success Rahul Dravid has had, and all those which are yet to come! #HappyBirthdayDravid pic.twitter.com/xh6Ypl2bQA

— Star Sports (@StarSportsIndia) January 10, 2018
Commitment, Consistency, Class. Here's wishing a very Happy Birthday to Former #TeamIndia Skipper Rahul Dravid #HappyBirthdayDravid pic.twitter.com/FTgk1SjdT9

— BCCI (@BCCI) January 11, 2018
Wall in Pic 1 may or may not shake or break.
But Wall in Pic 2 riding me is unshakable and unbreakable. Just sit back ,relax and have a safe ride. #HappyBirthdayDravid . Best wishes to the U-19 boys! pic.twitter.com/fP07xmQIMc

— Virender Sehwag (@virendersehwag) January 11, 2018
One of the legends of the game, an inspiration as much off the field as on the field and a man who taught me so much, #HappyBirthdayDravid pic.twitter.com/GPmDcdIsKD

— Mohammad Kaif (@MohammadKaif) January 11, 2018