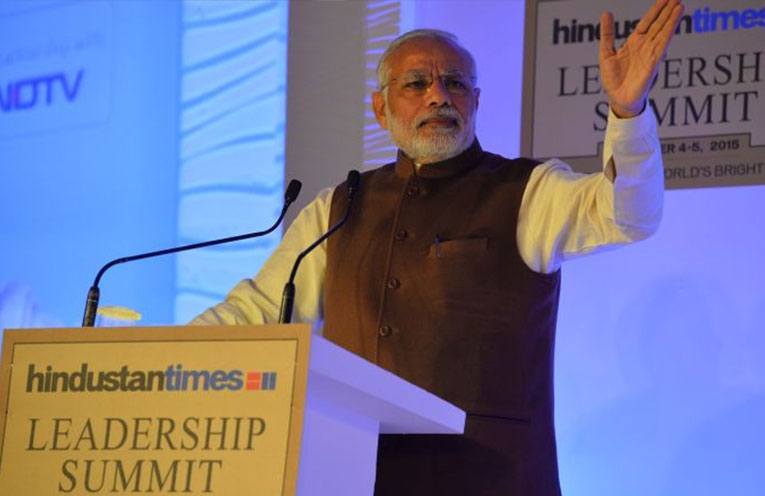 Honorable PM Modi said today "Corruption-free and a citizen-friendly system" is the priority of present government. He is committed to provide a valuable developed system to his nation without corruption. He said that 'Jan Dhan Yojna' was a step towards the development of the poor citizens. The 'Jan Dhan Yojna' System helped the poor citizens own a bank account without any problem. On the other hand, the LED bulb scheme was helping poor and middle class families to save more money and reduce the burden on their shoulders.
PM @narendramodi addressing the gathering at HindustanTimes Leadership Summit 2017 in New Delhi. #HTLS2017 pic.twitter.com/E9bgewSxgJ

— Narendra Modi Office (@namo_office) November 30, 2017
Today in New Delhi PM Modi spoke to The Hindustan Times Leadership Summit on the theme, 'The Irreversible Rise of India' and said, "These points may or may not be noticed, but I am always working on these valuable points for our poor citizens, I cannot sleep without it." I always try to create some schemes that can help our nation in the future. He said, our government is developing a new work culture in bureaucracy and making it responsive and more transparent.
Delighted to join the Hindustan Times Leadership Summit 2017 in Delhi. Sharing my speech during the programme. @htTweets #HTLS2017 https://t.co/mZx7M07Gdv

— Narendra Modi (@narendramodi) November 30, 2017
PM Modi speaking about the GST (Good and Service Tax) said that the tax reform world provide a new level of transparency in the system. Aadhaar is the best weapon against in-legal properties and many more.
आधार के साथ मोबाइल और जनधन की ताकत जुड़ जाने से एक ऐसी व्यवस्था का निर्माण हुआ है, जिसके बारे में कुछ साल पहले तक सोचा भी नहीं जा सकता था। पिछले 3 वर्षों में आधार की मदद से करोड़ों फर्जी नाम सिस्टम से हटाए गए हैं। अब बेनामी संपत्ति के खिलाफ भी ये एक बड़ा हथियार बनने जा रहा है: PM

— PMO India (@PMOIndia) November 30, 2017
PM Modi said that "I know I have to pay political prices for this, No issue I am ready for it and I am always fitting against corruption anyhow for my country."
#IrreversibleRiseOfIndia is not just a change in thinking, it is a change in confidence: PM @narendramodi #HTLS #HTLS2017 pic.twitter.com/MMWOyZyjFr

— Hindustan Times (@htTweets) November 30, 2017
Some major things Prime Minister Narendra Modi said at the HT Leadership Summit 2017. #HTLS2017 pic.twitter.com/wsnIzPY8ab

— Firstpost (@firstpost) November 30, 2017