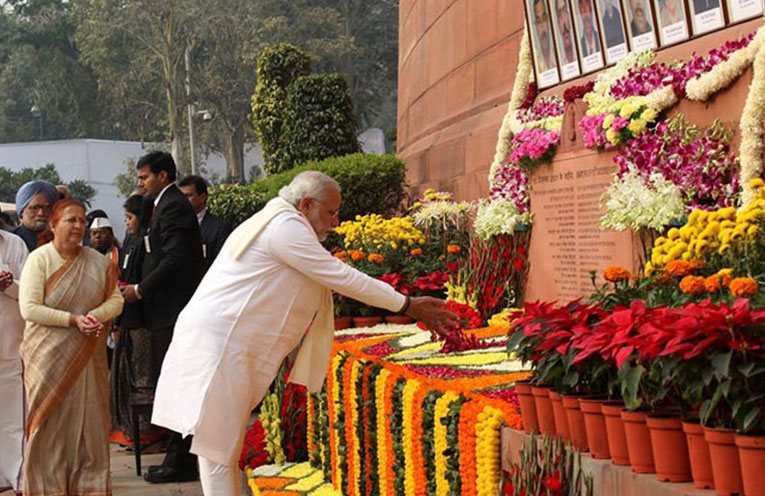 Wednesday Morning on 13th December, Delhi, The Honorable PM Narendra Modi, Ex-PM Dr. Manmohan Singh, Vice-President Venkaiah Naidu, Home Minister Shri Rajnath Singh, Congress President Rahul Gandhi and the Big Leaders of Political Parties paid a floral tribute on the 16th Anniversary for those who died in Terror attack on 13th december 2001 Parliament in New Delhi.
We pay homage to those who laid down their lives protecting the temple of our democracy on 13th December 2001. Their sacrifices will never be forgotten. pic.twitter.com/Fn4RYDvqxL

— Narendra Modi (@narendramodi) December 13, 2017
On December 2001, The same date, in a horrific incident, Five terrorists with armored arms linked to the terrorist organization Lashkar-e-Taiba (LeT) and Jaish-e-Mohammed (GM), brutally opened fire in the parliament complex, New Delhi.
This Incident went on for 40 minutes and at that time 100 parliament members were inside the parliament. On this Incident around 14 people were killed, most of them from security force and one civilian died.
"On this day in 2001, our brave soldiers and Parliament staff repulsed the attack on our Parliament House. Respects to our martyrs. The nation shall remember their sacrifice with pride. @DefenceMinIndia" tweeted by Defence Minister Nirmala Sitharaman.
On this day in 2001, our brave soldiers and Parliament staff repulsed the attack on our Parliament House. Respects to our martyrs. The nation shall remember with pride their sacrifice. @DefenceMinIndia

— Nirmala Sitharaman (@nsitharaman) December 13, 2017
Homage to martyrs whose supreme sacrifice to protect our temple of democracy will never be forgotten by a grateful Nation. #ParliamentAttack pic.twitter.com/zqNo0Aoina

— Smriti Z Irani (@smritiirani) December 13, 2017
Remembering those bravehearts who made supreme sacrifice this day in 2001 to protect our Parliament.
Salute🌺👏
You all will remain ALIVE in heart of Indian Democracy ! @adgpi#ParliamentAttack pic.twitter.com/ntNOraHXVg

— Maj Surendra Poonia (@MajorPoonia) December 13, 2017
16 years back, terrorists attacked the temple of our democracy, our Parliament. Brave men & women adorning the uniform thwarted these attempts – I salute their valour, sacrifice, selflessness & courage. Jai hind! #ParliamentAttack pic.twitter.com/S3mod0TkFC

— Vijay Kumar Singh (@Gen_VKSingh) December 13, 2017
My homage to the martyrs of #ParliamentAttack. My head bows to them for their supreme sacrifice, and their fight to the finish for the protection of our citadel of democracy.

— Capt.Amarinder Singh (@capt_amarinder) December 13, 2017
Remembering the brave soldiers and security personnel who laid their lives to protect the temple of our democracy during #ParliamentAttack.

— Ravi Shankar Prasad (@rsprasad) December 13, 2017
My homage to the brave martyrs who sacrificed their lives to safeguard the house of Indian democracy – our Parliament, on the anniversary of #ParliamentAttack

— Siddaramaiah (@siddaramaiah) December 13, 2017