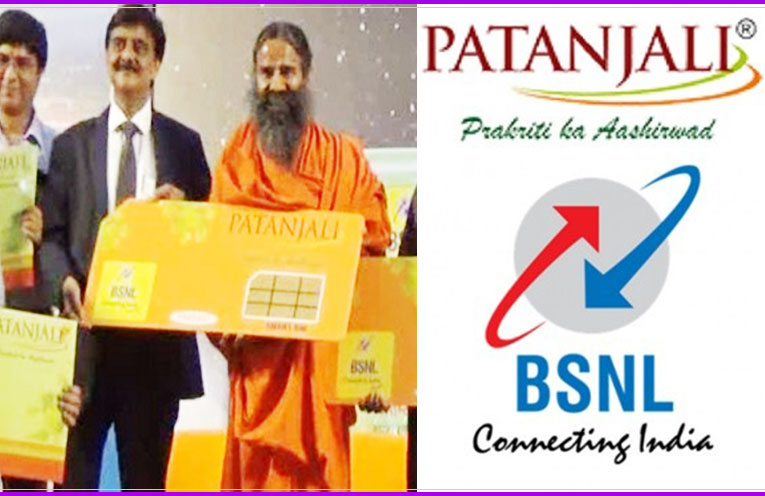 Ramdev Baba, who was once famous as a Yoga Guru, has now gained massive popularity, thanks to Patanjali. Ramdev Baba has been expanding his business rapidly, while also introducing new products in the market. He has now decided to invade the telecom industry and has launched Patanjali Swadeshi-Samridhi SIM Card. He has tied up with BSNL in order to do so.
Yes!! We ain't kidding. You heard that right.
What makes Ramdev Baba's Patanjali Sim Cards so special?

The Patanjali sim card enables you to make unlimited calls across the country. You also get 2GB Data pack along with 100 SMS all at just Rs. 144. However, this amazing offer can only be availed by Patanjali employees and office bearers (If only you were a Patanjali employee). The employees would just have to show their identity card and post some important work, they can avail this offer.
The offer doesn't just end there. The people with Patanjali SIM will also get health, accidental and life insurances. The medical and life insurance covers up to Rs 2.5 lakh to Rs 5 lakh.
Ramdev Baba was quoted saying, "There are five lakh counters of BSNL and from there people can soon get Patanjali swadeshi-samridhi card."
Ramdev Baba is said to have a total turnover of approximately Rs. 10, 650 CR from its launch till date. Considering the launch of the SIM and various other products, we can only imagine the amount of money Pajantali will be rolling in. We also hope that the offer is made available to the common man soon.
Related Post
Patanjali Partners With E Commerce Websites.