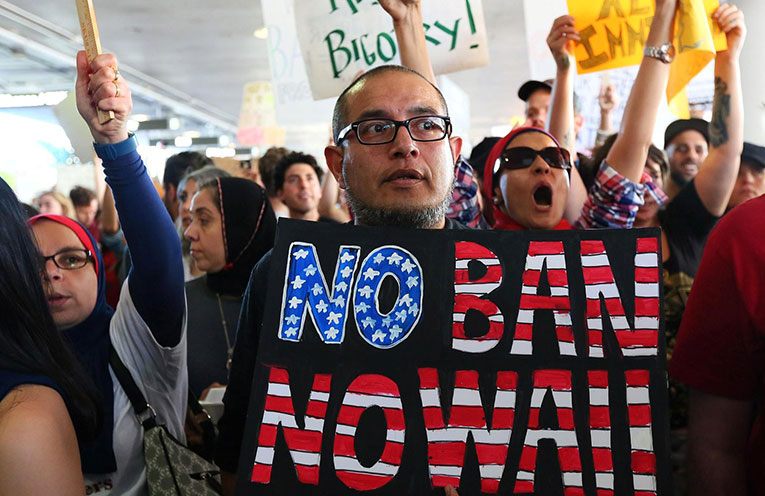 Washington 5th Dec, The Supreme Court of United States of America, narrated their decision in favor of Trump's administration to allow the travel ban in America by the residents, in 6 Muslim majority countries. The Court granted the request that was blocked by Lower Courts.
This action means that in future the ban will be implemented completely. This is bad news for the people of Syria, Somalia, Yemen, Chad, Iran and Libya, who want to go to America. "This ban is important to protect Americans by Islamic Terrorism militants" said President of America.
The Court said that, this is not the final decision on the travel ban. This policy will be facing some serious challenges in the future because the federal courts are expecting to rule its legacy.
In the last week Donald Trump had shared an anti-Muslim video on twitter and promised to impose "a total and complete shutdown of Muslims entering the USA."
Supreme Court Rules Trump Travel Ban to Go Into Full Effect

Massive victory for Trump. Tax cuts on the way. Economy booming. He's going into the new year on a roll.https://t.co/EafbuWy09j pic.twitter.com/elKanofeqx

— Paul Joseph Watson (@PrisonPlanet) December 4, 2017
This only allows the ban to go into effect pending further proceedings. But such rulings are not usually followed by a finding on the merits that reverses them. Looks like Trump will win on this and should be a deserved rebuke to certain lower courts. https://t.co/ptLqWCYgUm

— Brit Hume (@brithume) December 4, 2017
U.S. top court lets Trump's latest #TravelBan go into full effect. Pressure on Muslim Nations to curb Islamist Terrorism mounts.@HillaryClinton couldn't have done this.#DonaldJTrump
https://t.co/GhYvXsNern

— Jagrati Shukla (@JagratiShukla29) December 5, 2017